Best place to keep your personal pictures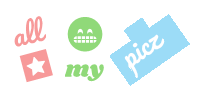 Are you tired of not having your pictures organized in one place?
Are you having storage problems on your phone?
Start organizing your pictures and videos in a better way!
Sign up for a free account and store up to 25GB of pictures*
Start organizing and uploading all your albums
Keep them for yourself, or share them with friends, you decide!
* Allmypicz was born to provide the best and most affordable personal pictures service and we are working hard to find the best model for both the platform and you (the users). Read more on the about page, and send us feedback from the contact page!